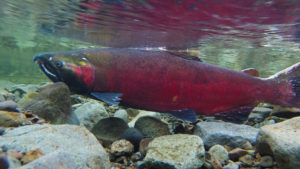 The Public Lands Conservancy (PLC) endorses the acquisition of the San Geronimo Golf Course for open space to be managed and restored as parkland and critical habitat protection for endangered coho salmon.
The acquisition will be orchestrated by the Trust for Public Land. The Trust has signed an option to purchase the 157 acre golf course and eventually turn it over to the Marin County Parks.
The PLC believes the acquisition has many benefits. It will provide: critical habitat for wildlife species, eliminate millions of gallons of irrigation water use, allow for the restoration of streamside riparian habitat, provide flooding relief to San Geronimo Valley residents, and add recreation opportunities such as hiking, wildlife viewing, and picnicking.
Importantly, the acquisition will provide additional protection for critically endangered coho salmon. It is one of the most important actions that can be taken to protect and restore coho salmon in Marin County. This unique run of coho salmon in Marin and other Central California counties has teetered on the brink of extinction.
The Golf Course lies at the headwaters of the Lagunitas Watershed that saunters 33 miles through magnificent Douglas fir, redwood, riparian, and live oak habitat. The San Geronimo, Lagunitas, and Devils Gulch Creeks support the largest wild run of coho salmon along California's Central Coast. This area is considered to be one of the last refuges for wild coho salmon.  The lower sections of the watershed are protected by Samuel P. Taylor Station Park and Golden Gate National Recreation Area.
Marin County has led the way in environmental protection on many fronts. This acquisition is destined to become yet another crown jewel of Marin County and a gift to the nation.
If you would like to support this acquisition, please write a note or letter by October 31, 2017 to Dennis Rodoni, Marin County Supervisor, at drodoni@co.marin.ca.us.
Don Neubacher, Public Lands Conservancy
National Public Lands Day is September 30, 2017
America's public lands and waters are treasures that move our hearts and spirits. They create a setting for recreation, inspiration, education, challenge, contemplation, and renewal.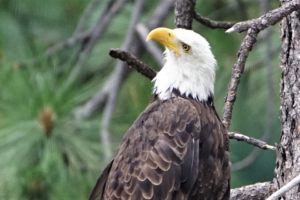 These lands and waters are precious to us as Americans and are often described as: the best of the best, our magnificent heritage, the heart and soul of our nation, an amazing gift, and places where we can feel and see that the world is bigger than ourselves.
They encompass pristine forests, stunning mountains, endless vistas, clear blue sky, ocean reefs, islands, amazing estuaries, gorgeous coastline, tundra, wilderness, waterfalls, clear streams, grasslands, wildlife and plants, and historic sites that tell our American stories. In many communities, parks, forests, and wildlife refuges have become sustainable economic engines because of growing tourism.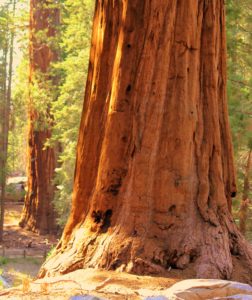 As Teddy Roosevelt, our 26th president,  stated so eloquently and wisely:
"We have fallen heirs to the most glorious heritage a people ever received, and each one must do his part if we wish to show that the nation is worthy of its good fortune."
Public lands and marine sanctuaries are facing unprecedented challenges today: declining budgets, climate change, and overcrowding to name a few. Our public land managers are also facing an Administration that has indicated that it wants to roll back long established protections ensuring preservation of our treasured landscapes. For example, the Secretary of the Interior Zinke wants to increase oil and gas leases on public lands. Also, Secretary Zinke's assault to reduce protections and size of ten current national monuments is discouraging.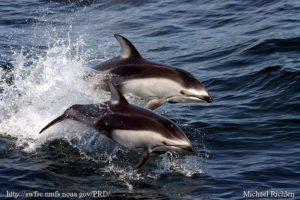 As President Roosevelt knew each one us must do our part to protect and preserve public lands. This year on National Public Lands Day join the team.  Do your part by pledging to do something for our natural and cultural heritage. This might include volunteering, contacting your public representatives, speaking out at a public meeting, donating to a specific cause, and thanking public servants that are working to protect our sacred landscapes.
Help us protect the "good fortune" Roosevelt described.  We have been given an enormous gift.  All of us must step up. The time to start is today.
Don't hesitate. The future is in your hands.
Don Neubacher, Public Lands Conservancy
by Tom Baty, Fisherman, Conservationist, PLC Board Member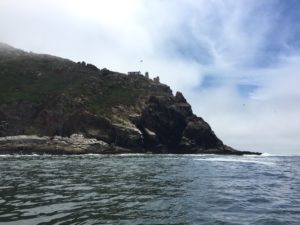 Seven miles southeast of Point Reyes Lighthouse the ocean is in a rolling boil. Below the calm surface are acre upon acre of krill, the small shrimp that is a cornerstone species in this part of the Pacific Ocean. All around the boat dozens of whales surface, dive and feed through the clouds of reddish-orange shrimp–today mostly humpbacks and blues with an occasional minke and fin whale in the mix. Murres, shearwaters, and auklets dive and feed on the same food as the whales. On the surface countless gulls take advantage of the krill being pushed to the surface by the whales and diving birds.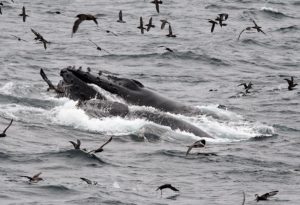 Below the surface an unknown number of Chinook salmon swirl and feed through the same bait. Fishing vessels troll tight configurations above, now and then hooking and landing one of these magnificent fish. We circle our boat through the morning, catching our limits and marveling at the spectacle. My fishing companions and I know this experience is a gift.  It seems difficult to gage whether having an 18 pound salmon on the line or an 80 foot blue whale surface right beside us is more exhilarating. Different joys, both magical.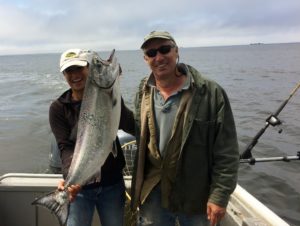 This scene on the ocean is less than 20 miles from the greater San Francisco urban area. It is completely within the Gulf of the Farallones National Marine Sanctuary. This sanctuary and the adjacent Cordell Banks National Marine Sanctuary are where I have spent countless days for the past four decades, chasing salmon, crab, halibut, and albacore. These National Marine Sanctuaries provide a layer of protection to this amazing ecosystem, limiting certain development and outright banning undersea mining and oil and gas extraction. The Sanctuaries also provide ongoing research to better understand, manage, and protect species and their critical habitats.  They recognize the values of local fisheries and their importance in vibrant coastal communities.
The Gulf of the Farallones and Cordell Banks National Marine Sanctuaries are currently at risk. The Secretary of the Commerce has begun a "review" of these and other Marine Sanctuaries and could reduce these sanctuaries in size and/or protective regulatory authority. They, like so many of our other public lands and water agencies, are also being compromised by acute budget cuts and regulatory rollbacks.
Now is the time to speak up and defend our Marine Sanctuaries.
You must comment by August 14: https://www.regulations.gov/document?D=NOAA-NOS-2017-0066-0001